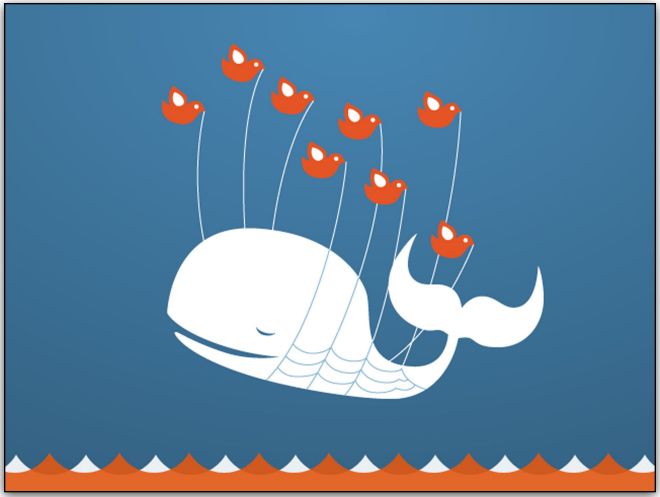 With 270 million active users posting 300 billion tweets, Twitter is a powerful place to get your message to lots of people. How powerful, exactly? Just ask Justine Sacco. She was the senior director of corporate communications at IAC, a media company that owns 150 brands including Match.com, Vimeo and Tinder — at least, she was until she sent this tweet before boarding a flight to Africa: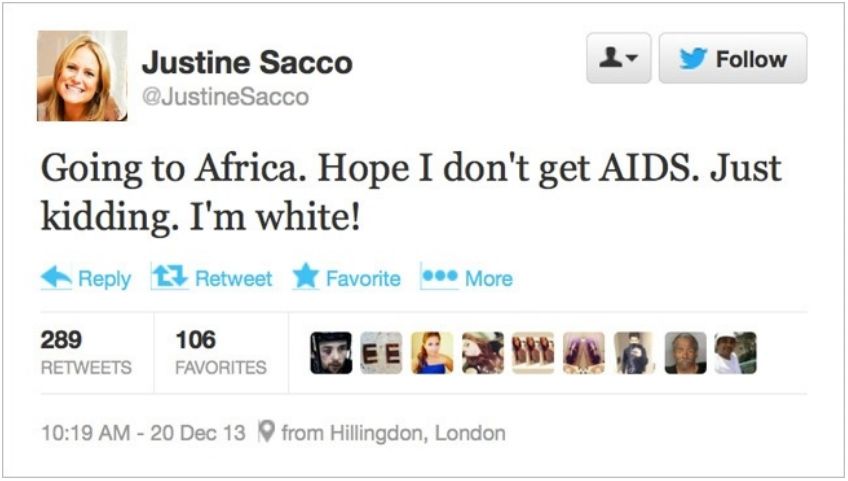 Even though she only had 170 followers, Twitter erupted with outrage, generating tens of thousands of angry replies during her 11-hour flight. The hashtag #HasJustineLandedYet began trending as the Twittersphere waited to watch this PR nightmare unfold in real time.
Justine landed to learn she had lost her job and ruined her reputation. Yes, there is power in Twitter; 140 characters can make or break a personal or corporate brand.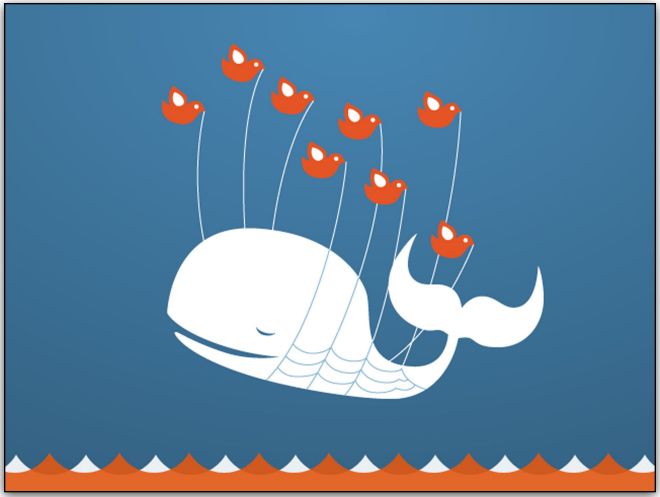 "If Twitter is the water cooler of our time, there's no reason why every business should not have some sort of Twitter presence," says Joel Comm, social media consultant, keynote speaker, and author of Twitter Power (now in its third version). The average Twitter user follows at least five brands, and 37 percent of average users will buy from a brand they follow, he says, but a third of small businesses still aren't leveraging the power of Twitter.
Comm took the stage at Social Media Marketing World 2015 to share examples of the top Twitter fails and the lessons they teach us.
Twitter Fails: When Bad Ideas Become Tweets
Example: J.P. Morgan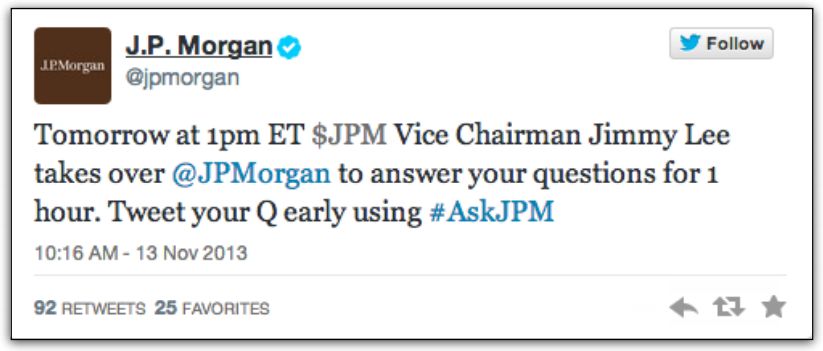 Communicating with your audience is what social media is all about, but it can open a can of worms if you're not careful. "Of course, we're all huge fans of mega corporations that are paying outrageous salaries to executives," Comm says sarcastically. Equally sarcastic questions poured into #AskJPM, taking jabs at investor fraud and corruption — questions like this one from Kevin Murphy: Did you always want to be part of a vast, corrupt criminal enterprise or did you "break bad"? It derailed as quickly as E.L. James's attempt to hold a Twitter Q&A about "Fifty Shades of Gray."
By the end of the day, @JPMorgan cancelled the Q&A. "Bad idea," they tweeted. "Back to the drawing board."
Lesson Learned: Don't open the door to questions you can't answer, and recognize bad ideas when they happen.
Example: McDonald's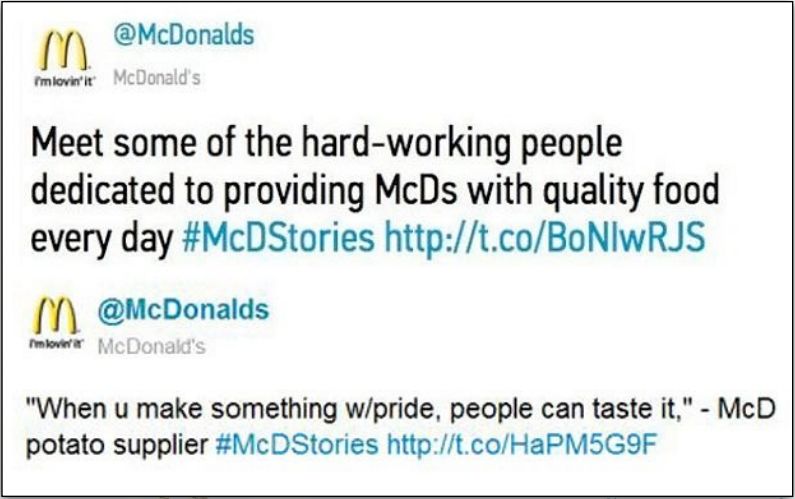 McDonald's introduced the hashtag #McDstories hoping for positive mentions. Instead, dissatisfied customers shared hundreds of stories about food poisoning, foreign objects and animal cruelty from the golden arches. McDonald's pulled the promoted hashtag after less than two hours.
Lesson Learned: Act fast with a backup plan. "As with all social media campaigns, we include contingency plans should the conversation not go as planned," McDonald's announced in a statement. "The ability to change midstream helped this small blip from becoming something larger."
 Example: Denny's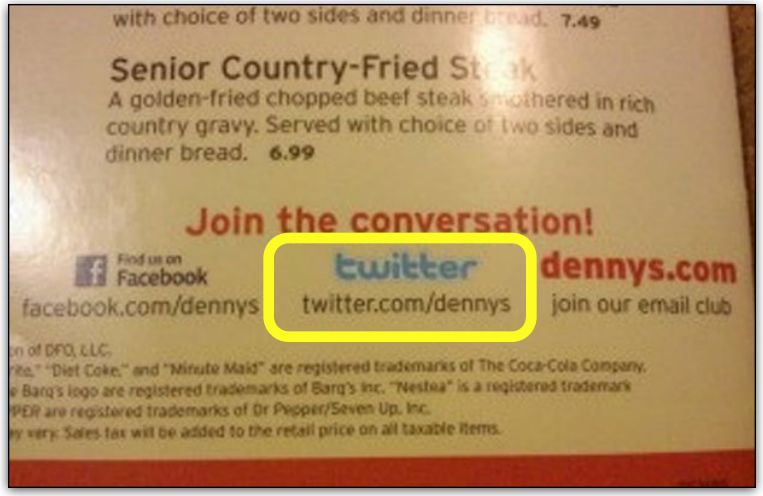 It's always good to promote your social channels on print materials and other communications — unless, of course, you promote the wrong Twitter handle. The Denny's restaurant chain, which actually tweets from @dennysdiner, misprinted its name as @dennys in all of its menus, sending thousands of patrons to the account of some random dude in Taiwan named Dennys.
Lesson Learned: Always check (and double check) your username before you share it.
 Example: Tesco

This tweet, in itself, isn't all that offensive. But the timing of the tweet added context to the silly equine idiom, because before Tesco posted this, news broke that products from the European grocery chain contained horse meat. The brand apologized with personal replies, explaining, "That tweet was scheduled before we knew of the current situation."
Lesson Learned: Don't set and forget tweets. Review and revamp pre-scheduled messages to make sure you stay relevant to current topics.
Example: Kenneth Cole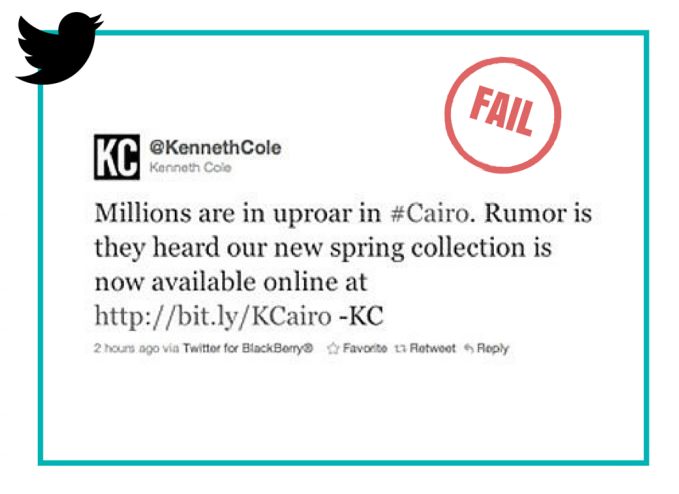 When protests in Egypt put #Cairo at the top of trending Twitter hashtags, Kenneth Cole took a flying leap into the conversation — even going to the trouble of creating a customized shortlink tying his brand to the city. Though KC clarified that he didn't intend to make light of a serious situation, he went on to tweet about footwear by comparing "boots on the ground" to sandals, pumps, and loafers.
Lesson Learned: Don't make light of serious situations.
Example: Epicurious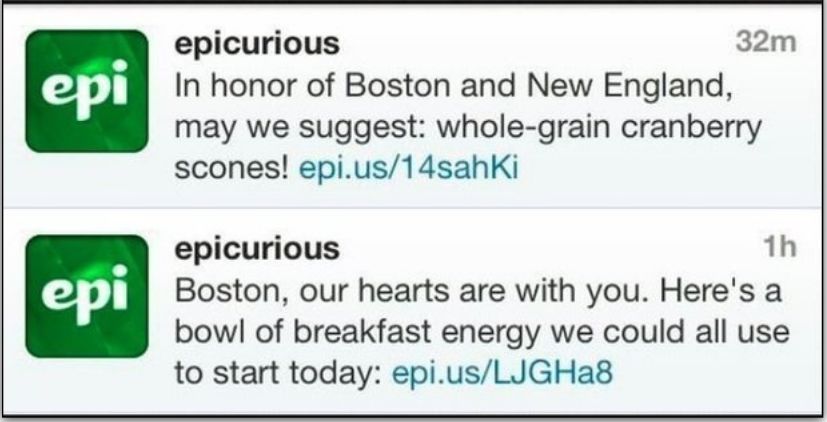 Taking notes from Kenneth Cole's gleaming example of insensitive remarks, the foodies at Epicurious tried desperately to hook on to the trending tweets about Boston after the marathon bombing by offering Boston some scones and breakfast recipes. Though Epicurious sent individual apologies on Twitter, the half-hearted copy-and-pasting "seemed" disingenuous.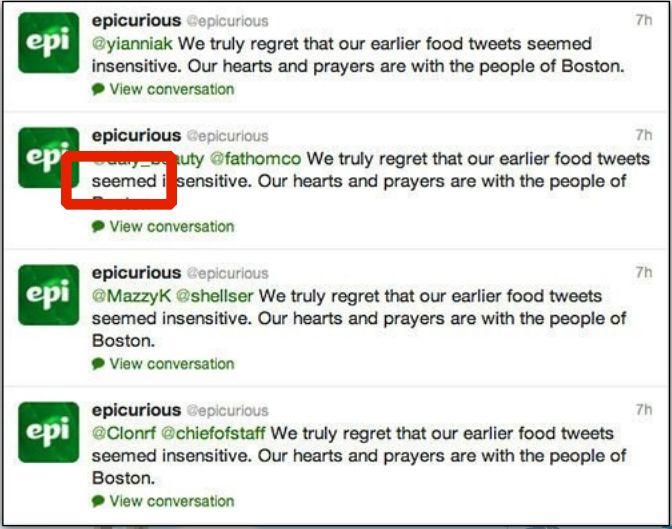 Lesson Learned: Don't make light of serious situations. If you do, apologize authentically, not as lip service.
 Twitter Fails: When account managers hijack corporate tweets
(Comm warns that these tweets require a PG-13 disclaimer.)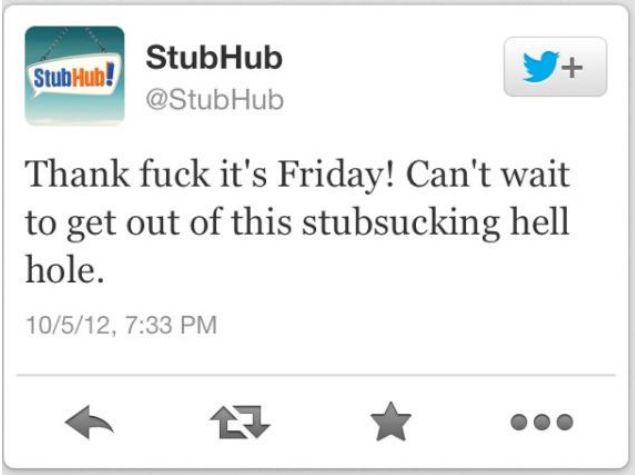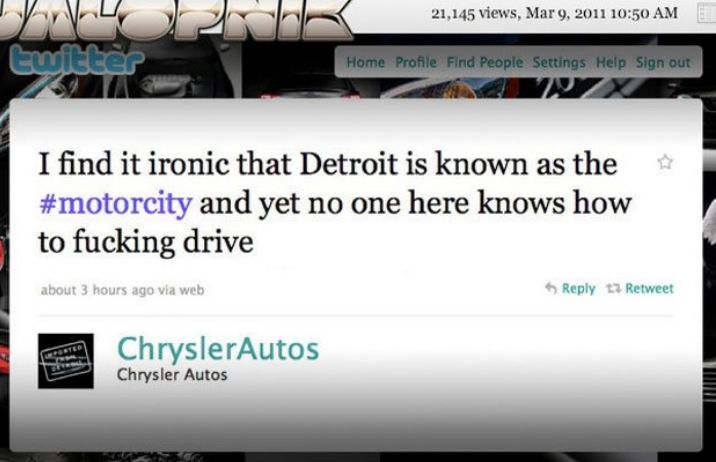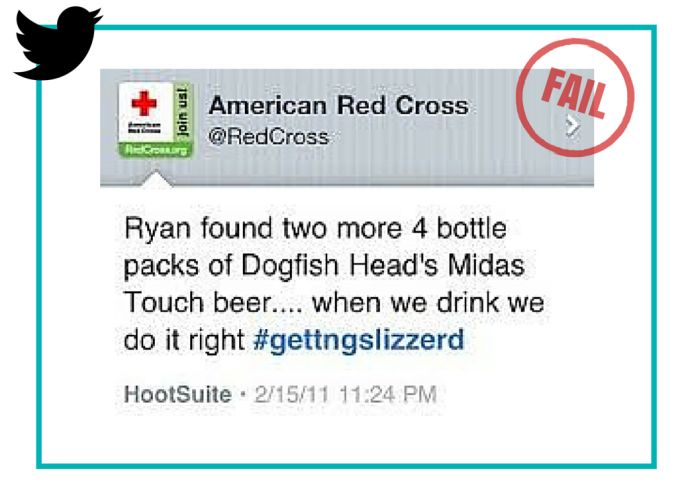 Maybe social media managers make honest mistakes, thinking they're signed into personal accounts instead. Maybe they get fed up after a bad day and decide to take advantage of the brand's soapbox on Twitter. Maybe they insert the wrong link into a corporate tweet, as was allegedly the case with the biggest brand fail in the history of Twitter. This example comes from U.S. Airways, who told a dissatisfied customer exactly where to stick it. After a passenger tweeted the airline several times about her flight delays, someone on the corporate account ended the conversation by inviting her to send details about her trip. The tweet included a link to a rather unsavory picture, which Comm describes for the PG-13 rating as: "a picture of a female lacking apparel with her legs in a position such as one might call 'spread wide open,' with a model airplane going boldly where nobody should have gone."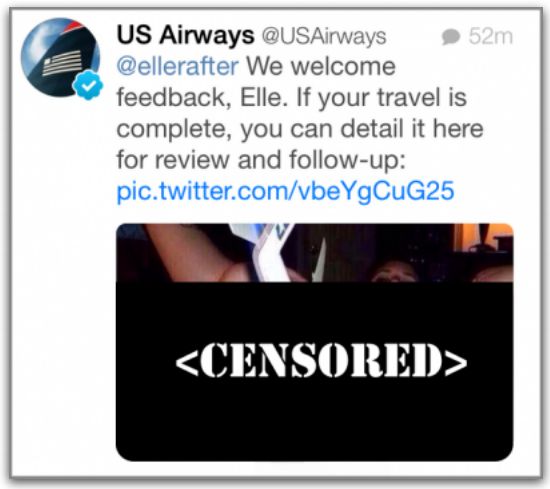 Lesson Learned: Be careful who you put in charge of your social media. Vet the person who holds the key to your brand's Twitter presence, and put policies in place as checks and balances. If your corporate Twitter account is "hijacked," the typical response is to apologize, explain that the corporate account has been compromised, and assure that the situation is being handled.
Sometimes, the way it's handled can redeem (or further condemn) your brand. Red Cross tried to fix its fail with this witty comeback, which proved much more endearing than simply saying, "We're sorry."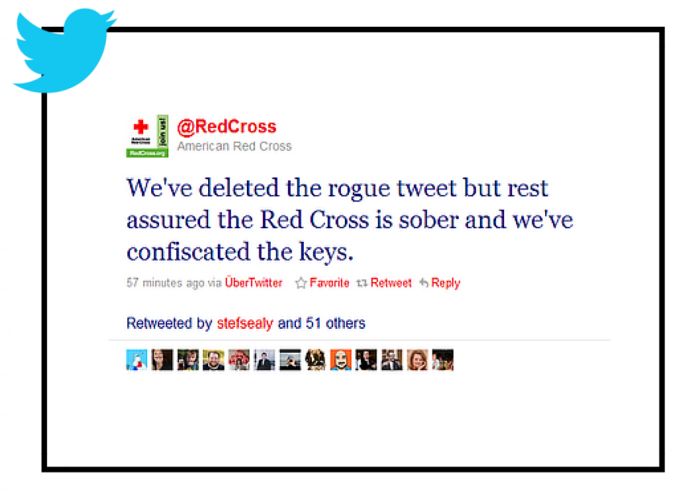 Twitter Hashtag Fails

Example: #Aurora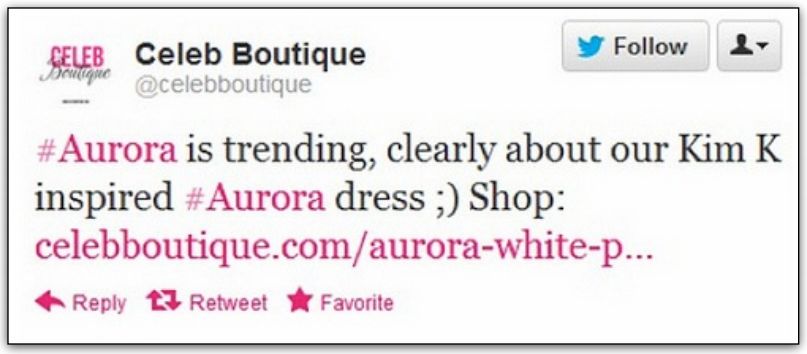 After a mass shooting at a Colorado movie theater left a dozen dead, conversations about the tragedy in #Aurora took over Twitter. The social media manager at Celeb Boutique "clearly" didn't read the news before jumping into the conversation. "We didn't check what the trend was about," the brand later tweeted with an apology.
Lesson Learned: Research trending hashtags before you use them.
Example: #notguilty
After a contentious trial examined whether Casey Anthony murdered her two-year-old daughter, the #notguilty verdict began trending on Twitter. Entenmann's Bakery joined in with this innocent tweet: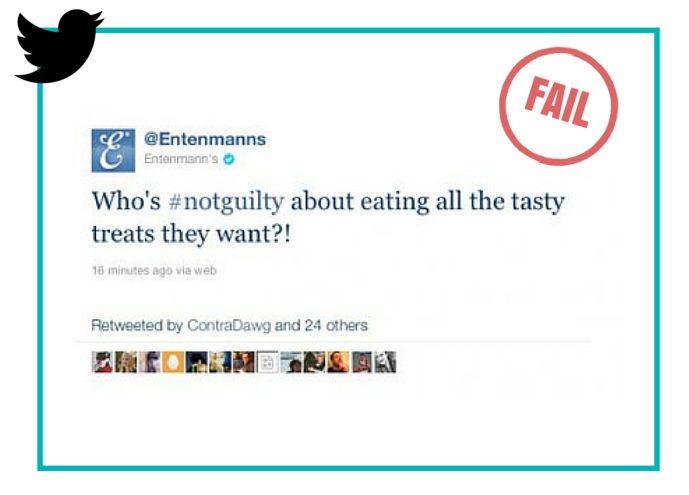 …and then quickly apologized when they realized what the hashtag actually referenced.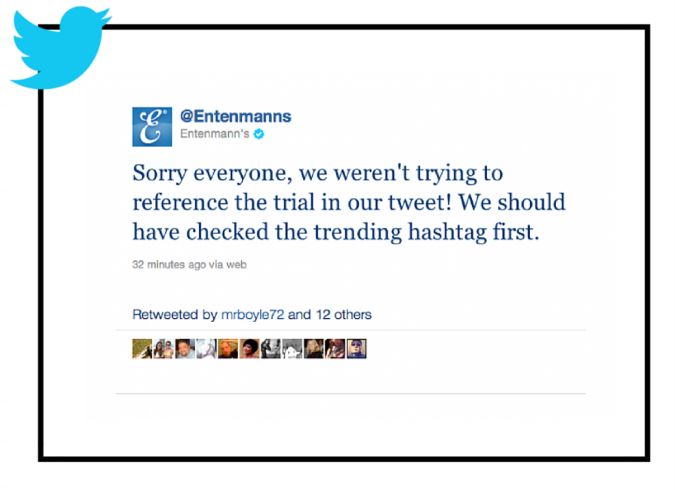 Lesson Learned: "Research what the hashtag is about," Comm says. "Just because it's trending doesn't mean it's something that you could or should capitalize on."
Example: Stay for pizza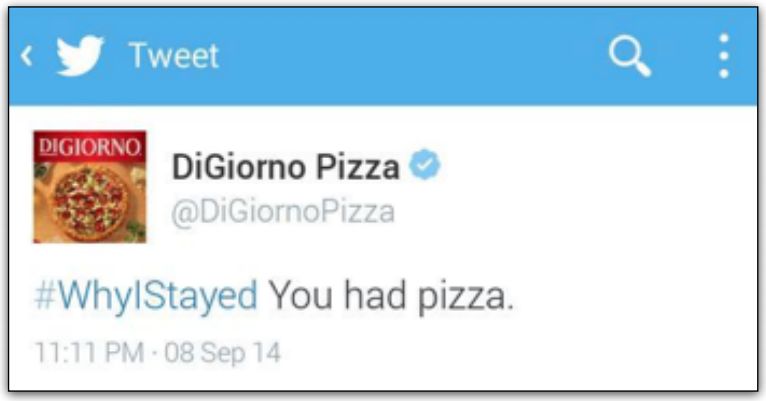 The hashtags #whyileft and #whyistayed encourage women in abusive relationships to share their stories. Oblivious to this, DiGiornio Pizza announced that it stayed for the pizza…and then quickly apologized when they realized what the hashtag actually referenced.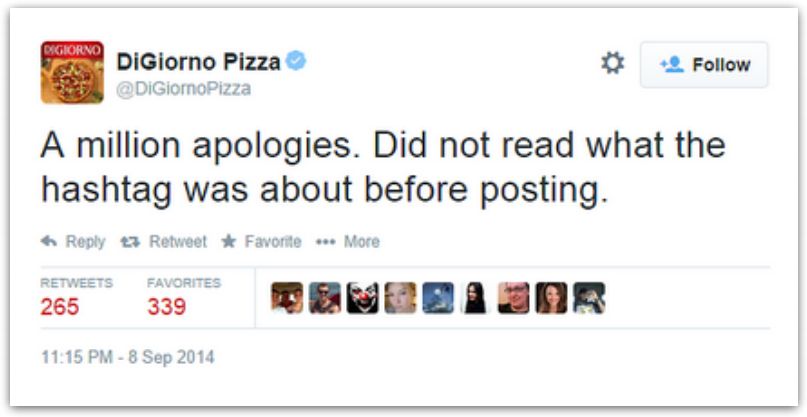 In addition to this public apology, DiGiorno's social media manager individually replied to each outraged tweet, personalizing the apologies by using first names and sincere language, for example: "I couldn't be more sorry about it, Emma. Please accept my deepest apologies."
Lesson Learned: In DiGiorno's words: Read what the hashtag is about before posting.
Example: Susan Boyle
To celebrate the release of her album, singer Susan Boyle announced a virtual listening party to field questions at the hashtag #SusanAlbumParty. But it didn't take clever Twitter users long to creatively capitalize the phrase into #SusAnalBumParty. The event hashtag was quickly changed to #SusanBoyleAlbumParty.
Lesson Learned: Evaluate how new hashtags might be construed.
Last Words
"If you're going to mess up, whether it's face-to-face or in the social space," Comm says, "own it, say you're sorry, and then move on. Even if you do all those things, you might become a case study in somebody's presentation." The bottom line: Think before you tweet, because what happens on social media can haunt you forever.
>> This post is part of Bantam's coverage of Social Media Marketing World 2015, with Brooke N. Bates reporting. Contact Bantam if you need help managing your brand on social media to avoid fails like these. >>
Check out Joel Comm's books below:
Image credits: Joel Comm, Social Media Marketing World 2015 presentation, "The Power of Twitter: 140 Characters Can Make or Break Your Brand"