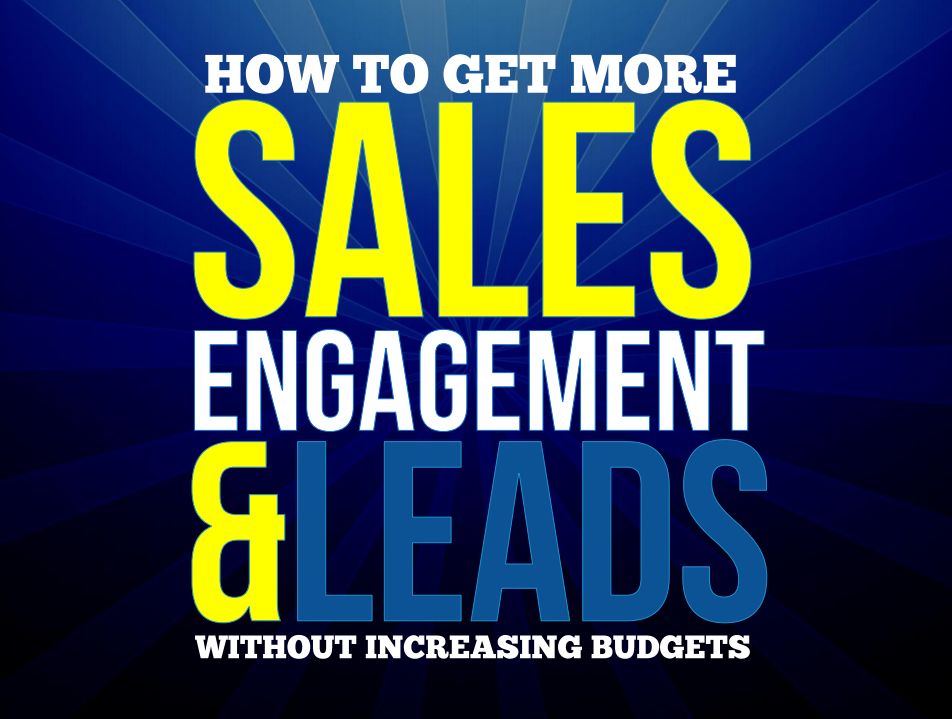 You may know Brian Carter as the #1 best-selling author of "The Like Economy," "Facebook Marketing" and "The Cowbell Principle," or maybe as the digital marketing strategist behind such brands as Universal Studios, the U.S. Army, Hardee's and Carl's Jr. But only those of us at Social Media Marketing World 2015 got to know Brian Carter the game show host, when he took the stage in San Diego to teach us how to get more sales on Facebook without increasing budgets.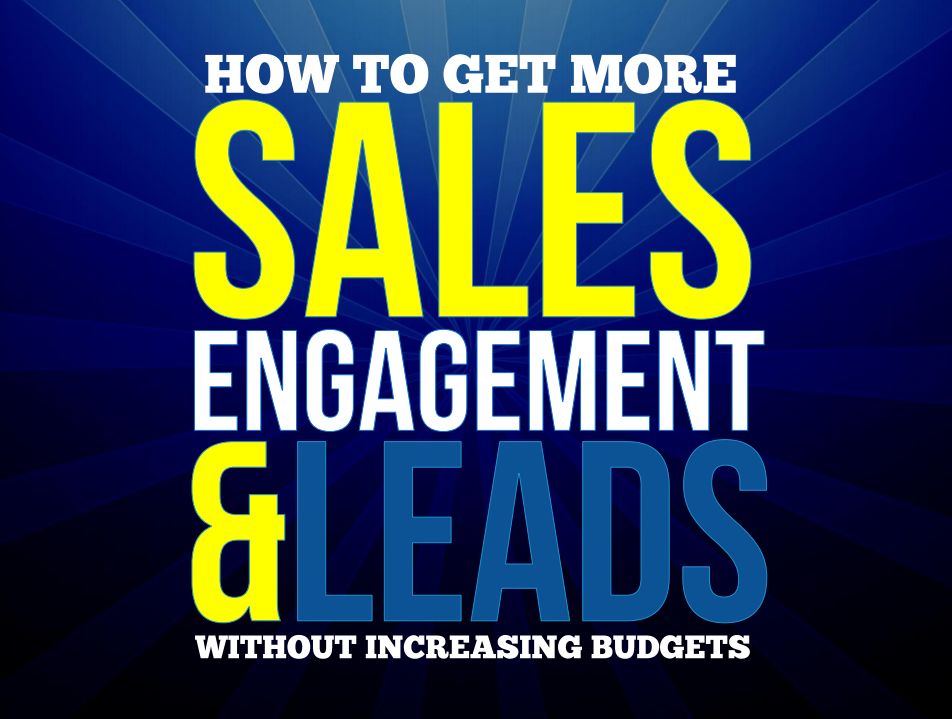 The key is to use your Facebook ad budget more efficiently by:
Using best practices to post and advertise
Testing more posts and ads to find the most affordable options
Let's  test your Facebook knowledge. How well do you know engaging Facebook content?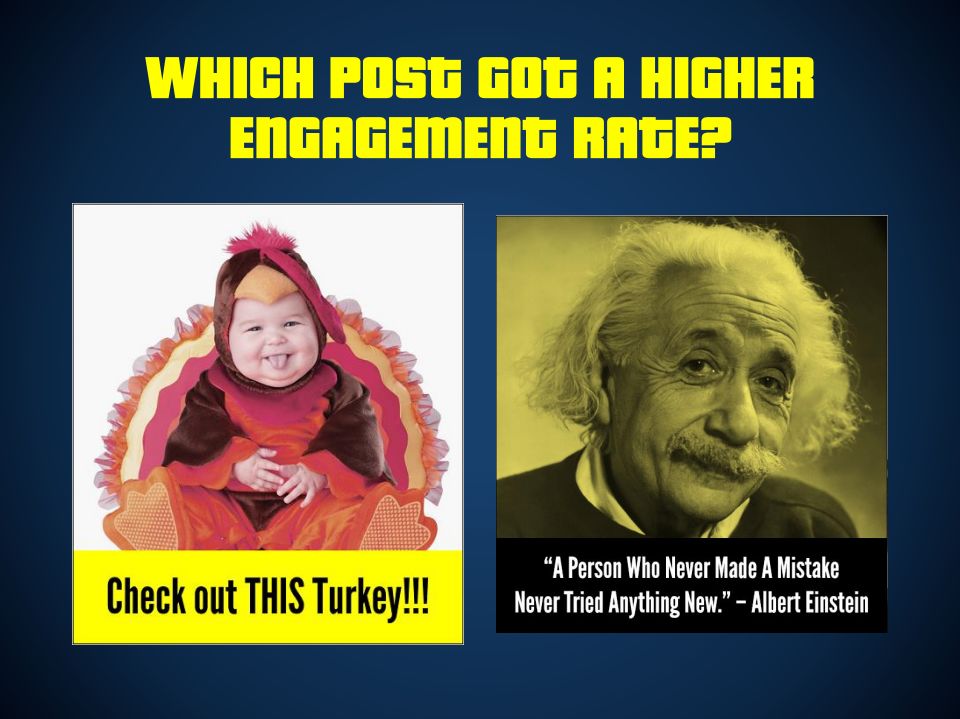 As much as Facebook loves cute babies in costumes, this little turkey only earned a 5.7% engagement rate, whereas Einstein garnered 7%. Cuteness is compelling, but no amount of cuteness — not even a cat dressed as a turkey (5.1%) or a dog making faces underwater (4.7%) — can compete with the wisdom of Einstein. Why?
Einstein is a universally revered personality.
Photoquote text is compelling, particularly famous quotes that have stood the test of time.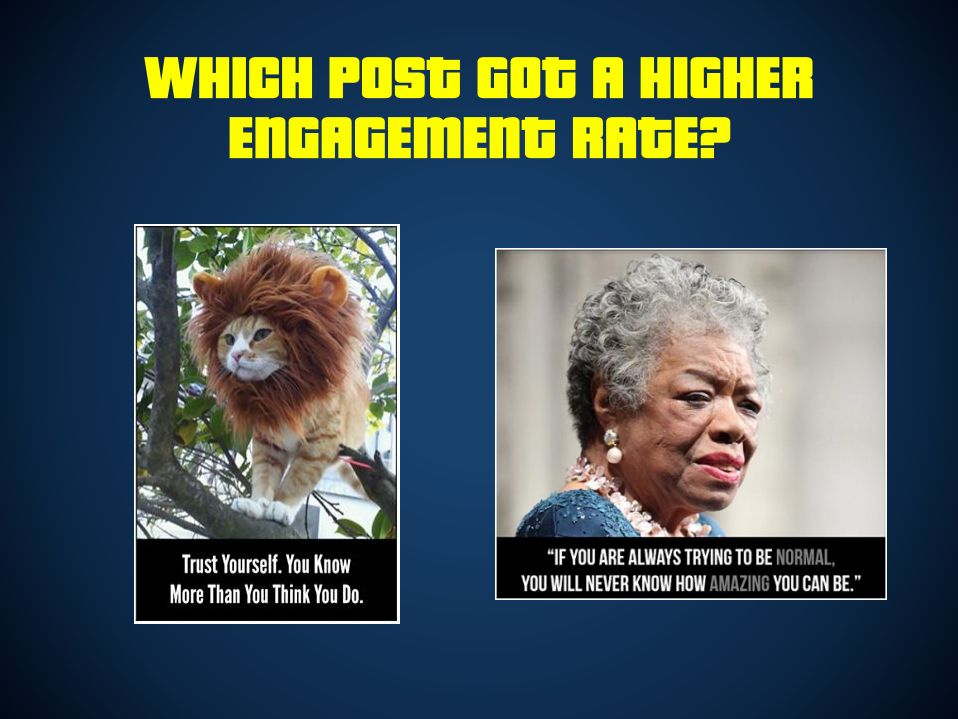 Trick question. These posts tied with a 5.7% engagement rate. So try some cute animals and some wise quotes from revered personalities, and test which performs better with your audience. Also consider when you post to see how timing affects the response.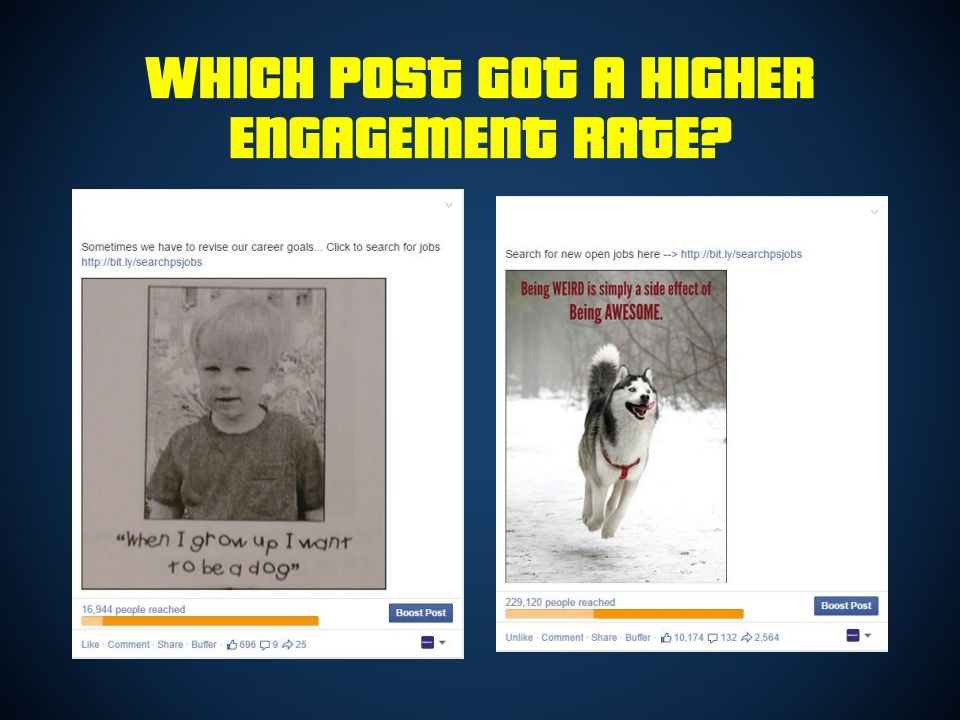 Dogs often win on social media. This one generated 8.4% engagement rate while the little boy on the left only mustered 4.7%. This dog garnered more than 85,000 likes and 35,000 shares for less than $200.
What do these examples teach us about getting more Facebook post engagement?
Facebook posting is like cheerleading. Your fans have specific values, beliefs and likes; you have to find out what those are by the reactions to your posts and Audience Insights. When you reflect those values in your posts, you'll get likes and shares. It's that simple.
Facebook posting is also like coaching. Your content should teach, inspire, educate and encourage your audience. People will share this type of content because it makes them look smarter.
Of course, how you deliver this content matters. A great Facebook post should include these 3 elements:
Photoquote or video
Call to action
Link, because, as Carter says, "A Facebook post without a link is gossip, not marketing."
Now, how well do you know your Facebook audience?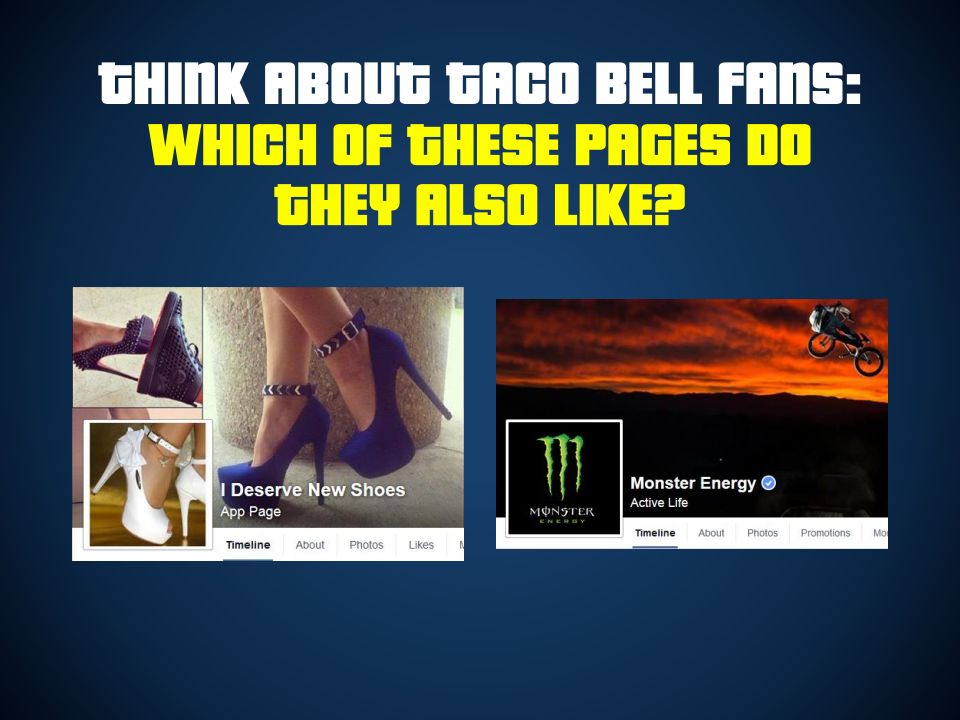 Actually, Taco Bell fans like shoe shopping. Surprised? You may not know your audience as well as you think you do…so go to the data, and use Facebook Audience Insights instead of guessing.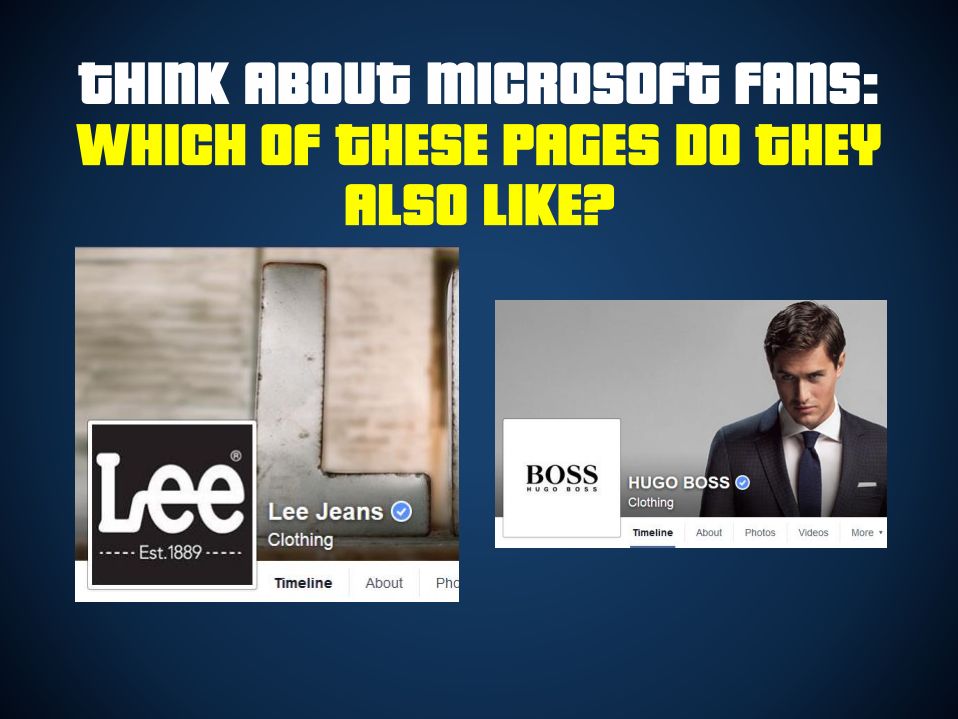 Although the TV commercials featured a casually dressed "Mac guy" and a stuffy "PC guy" in a suit, the opposite is actually true. It turns out PC users prefer the comfort of Lee jeans over the posh of Hugo Boss (which Apple fans prefer).
How well do you know Facebook ads?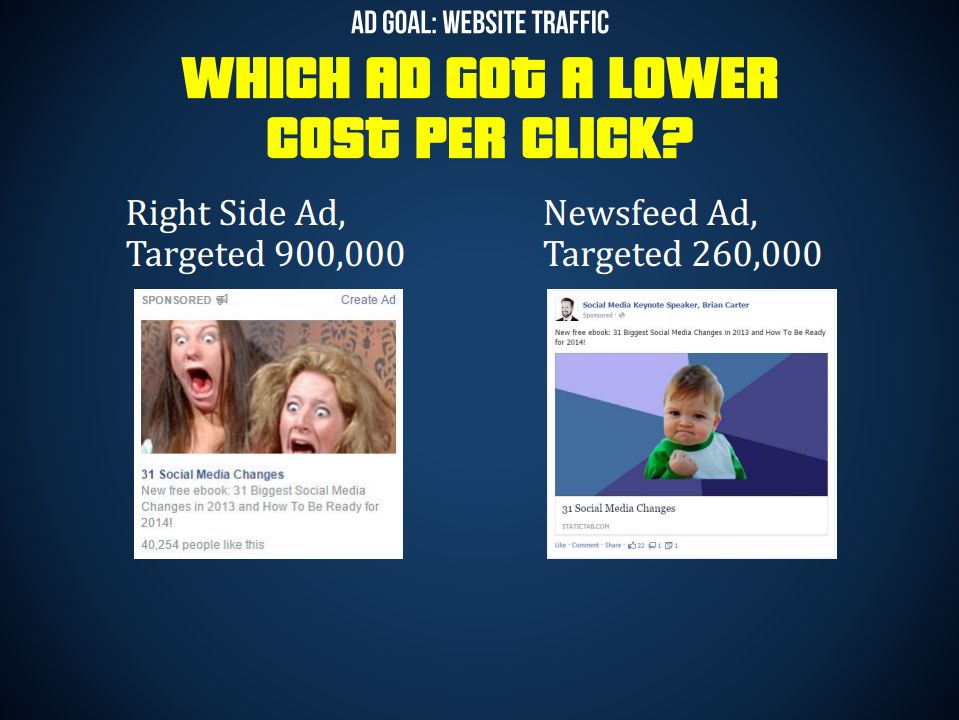 The scary ad on the left won, with a CPC of 7 cents compared to 29 cents for the baby on the right. Why?
Larger targets are typically more affordable because Facebook's algorithms are focused on reaching the biggest audience possible. If you target too narrowly, the algorithms aren't as effective.
Whenever you're tempted to narrow your targeting, keep it wide and make the copywriting more specific instead, using your words wisely to call out your ideal audience so only the right people click.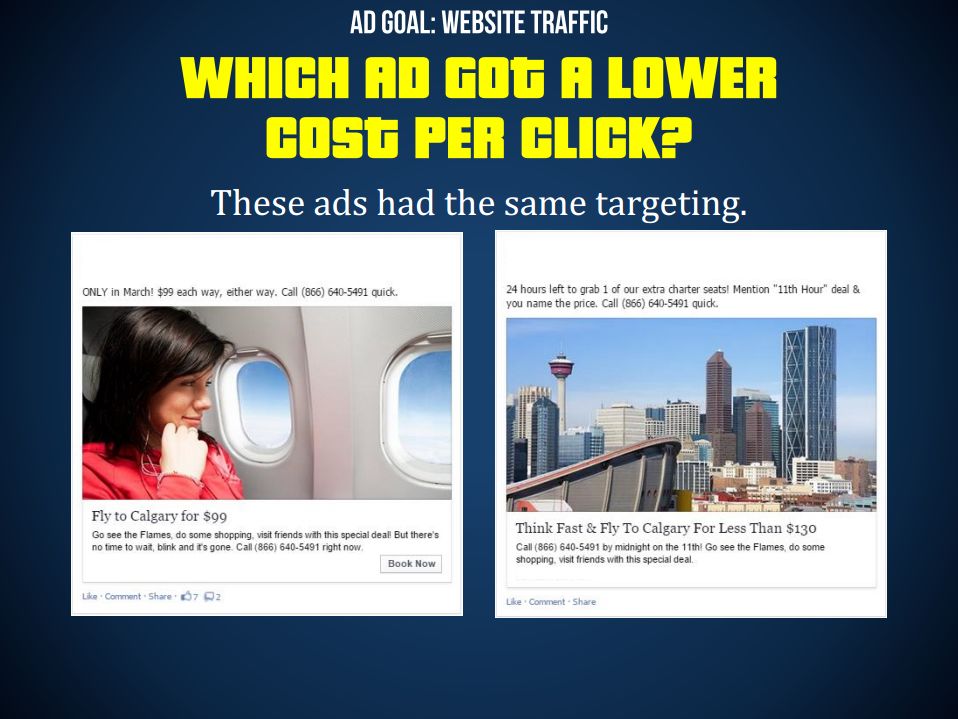 The ad on the left wins again, with a CPC of 37 cents compare to 62 cents on the right. Why?
Happy faces are better than no faces in ad photos.
Simpler, clearer copywriting almost always wins, but test different ways to say the same thing to be sure.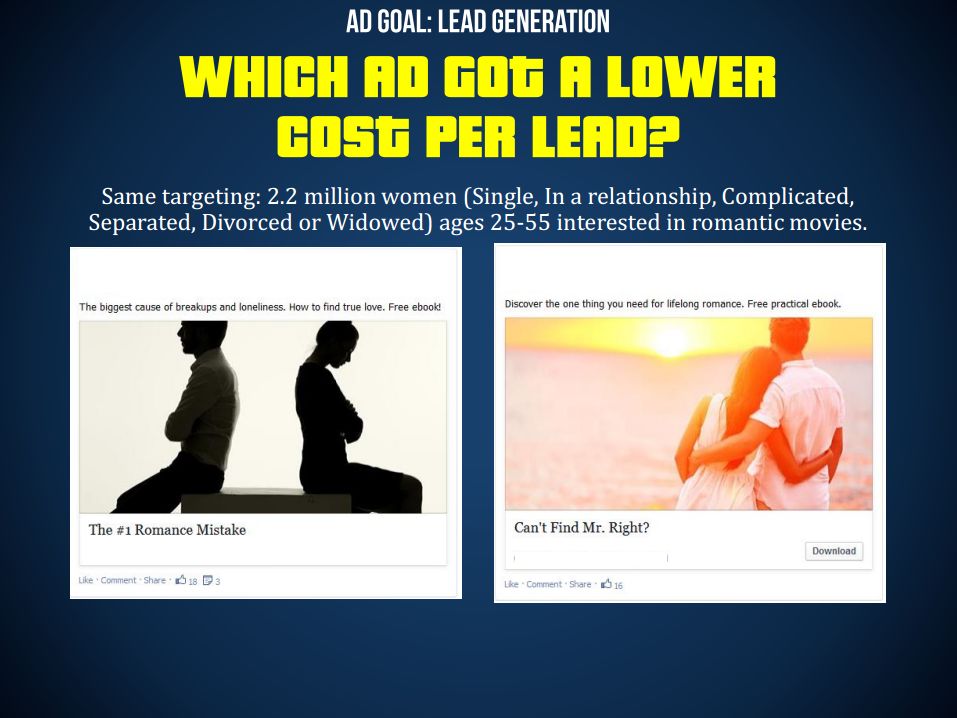 The ad on the left generated leads at $3.25 each, while the one on the right cost $7.62 per lead. Why?
While positivity usually reigns on Facebook, negativity can work…but only bring it up when your offering solves that problem.
Mistake-related content, in particular, tends to convert rather well.
When you use people in images conveying positivity, show their faces. There's a reason it's called Facebook.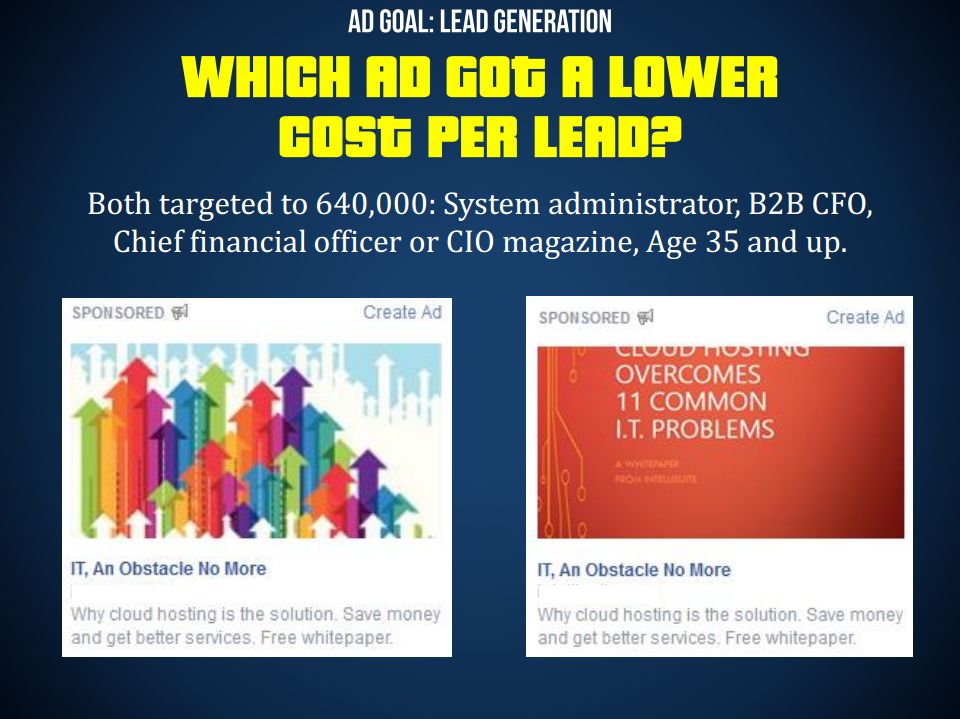 This time, the ad on the right generated leads at $22.68 each, while the ad on the left cost $35.39 per lead. Why?
Showing a preview of the lead magnet can increase conversion rate.
Avoid bland, generic stock photos.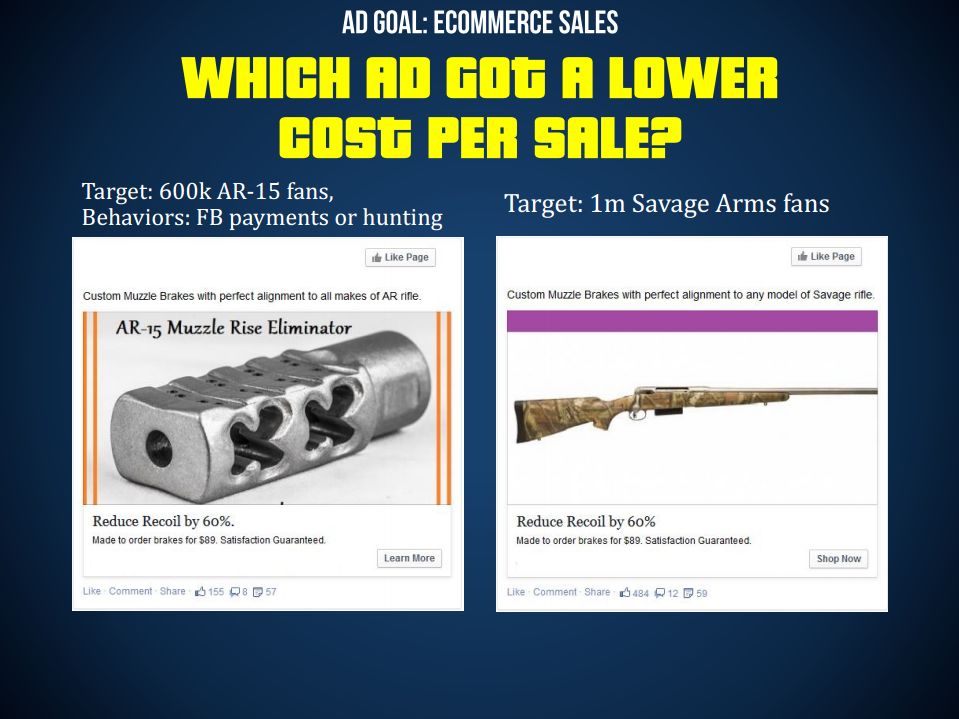 Even though larger targets are often better, this time the ad on the left cost $5.88 per sale, while the ad on the right cost much more ($34.34) for each sale generated. Why?
Modifying your target audience with behaviors (like previous online purchases) can really help.
Test granular appeals to granular audiences.
Likes, shares and ad clicks are great, but if they don't turn into sales, you're wasting your time on Facebook. So keep in mind these 7 tips for Facebook content that converts, and reach your audience by explaining:
Benefits of being a customer
Problems you help your audience overcome
Unique superiority of your offering over alternatives
Lies and myths about your niche
Specific results customers have achieved
Stories about customer achievements
Testimonials from customers on camera
>> This post is part of Bantam's coverage of Social Media Marketing World 2015, with Brooke N. Bates reporting. Contact Bantam if you need help getting more engagement, leads and sales on social media. >>
Check out Brian Carter's books below: